What is Shopware Cloud?
There are several different ways to create a website or an online shop. But in the realm of E-commerce, an increasing number of cloud-based solutions are currently gaining ground. Alongside platforms like Shopify and Magento, Shopware has also established itself. Shopware is a German company that was founded in the year 2000. By now, Shopware has over 100,000 users, with the majority being E-commerce businesses.
Shopware 6 Cloud is the perfect solution for the future of E-commerce.
Difference self-hosted and cloud version
A self-hosted website is almost infinitely customizable. You receive manufacturer support and can save all changes locally without needing an internet connection. However, self-hosting is not suitable for beginners. One must search for a hosting provider and require assistance from an agency or Shopware.
A Shopware 6 Cloud shop offers you an "all-inclusive package". Many of the things that are time-consuming and nerve-wracking at the beginning of creating a website are things you don't need to worry about. With the Shopware Cloud version, you don't need to bother about finding a host or creating an SSL certificate; it's directly included in the cloud.
However, Shopware has significantly improved with the Cloud version in recent years. Everything runs smoother now, and with the solution of Composable Frontends, the Shopware Cloud version has become a true alternative to the self-hosted version. In line with the motto of Headless Commerce, of course. But it should be kept in mind that even linking the Cloud version with Composable Frontends isn't something that can be easily accomplished on the side; having a developer by your side will be a significant relief.
Depending on the version you choose, the revenue sharing is, by the way, different.
For whom the Shopware Cloud makes sense
Most of the time, when introducing a new product to the market, it's uncertain whether it will sell as desired. Nonetheless, the costs for web hosting and website creation are often quite high. On the other hand, Shopware Cloud costs nothing and is perfect for initially testing new products.
Shopware Cloud makes sense for all online shop operators who don't want to delve into a complicated shop system.
The comprehensive package from Shopware, on the other hand, is almost unbeatable and perfect for beginners. The user interface is very intuitive and straightforward, the costs are very manageable, and the complex initial hurdles simply disappear.
As your shop continues to grow and you desire more features, you can easily upgrade on a monthly basis. In the event that your shop isn't performing well and you no longer wish to continue, you also have the option to cancel your contract on a monthly basis.


Advantages that the Shopware Cloud offers you
The current version of Shopware Cloud is Shopware 6. With Shopware 6, you now have the opportunity to utilize various stylish themes and extensions for payment methods or shipping tools for your shop. This possibility instantly makes your shop more appealing and professional.
However, it's important to note with Shopware Cloud: not all themes are suitable for the cloud, and plugins also do not function with the cloud versions.
Given that Shopware is a German company, you have the advantage of ensuring data privacy and GDPR-compliant processes and data flows. With other cloud-based shop systems such as Shopify, which is a Canadian company, you don't have this security and must make several adjustments initially.
Another significant advantage of Shopware 6 Cloud is that you can manage all your sales channels directly through Shopware 6. This saves you a lot of work and is much more organized when you can have all your sales channels at a glance without having to open five different pages.
Shopware 6 also offers you the possibility of an integrated SEO function. SEO is a very important tool for boosting organic visibility and can cost a lot of money when hiring an expert. So, it's even more convenient that with Shopware 6 Cloud, you have the direct capability to assess and revise the SEO of your Shopware store.
Does Shopware Cloud have any disadvantages?
Yes, indeed, Shopware Cloud does have disadvantages! 🤨 A significant drawback is that a Shopware Cloud shop cannot be freely designed; only minor adjustments can be made.
However, there is a very interesting option! You can combine Shopware Cloud with Shopware Frontends, allowing you to access the shop via Headless Commerce. This results in the best of both worlds: a stable shop and a customizable frontend. Here, you can access a demo store frontend. 🤫
Why the Shopware Cloud is also practical for developers
The Shopware Cloud is not only intriguing for E-commerce companies but also beneficial for developers.
Many aspects are pre-built here, and in the Shopware App Base Guide, you can find several preconfigured options. However, one should not forget that the Cloud version comes with several limitations, making the realization of certain features, such as a configurator, notably more challenging. Those offering products that would benefit from a configurator would be better suited with a self-hosted version.
One thing to note: The PHP code of the Shopware Core is not extendable or modifiable. However, this is also a significant advantage as everything is very clearly defined. As a developer, you can write an app to introduce newly developed features into the Cloud. This app can subsequently be used in self-hosted shops as well.
Shopware Cloud for E-Commerce companies
As already mentioned, Shopware 6 Cloud is especially exciting for e-commerce companies that want to create their own online store without much effort. The creation is fast, inexpensive and requires no prior technical knowledge.
For those who want to struggle through it themselves and do not want to hire an agency or freelancer, Shopware offers training packages for some themes directly with comprehensive documentation and knowledge database.
In general, extensive German-language documentation is available for handling the cloud version. If questions arise for which no documentation is available, there is also a help and chat function with Shopware's service team. The service is available in German & English.
Here you can see a overview to the prices PS: This informations are'nt actually. Find out all innovations in this article.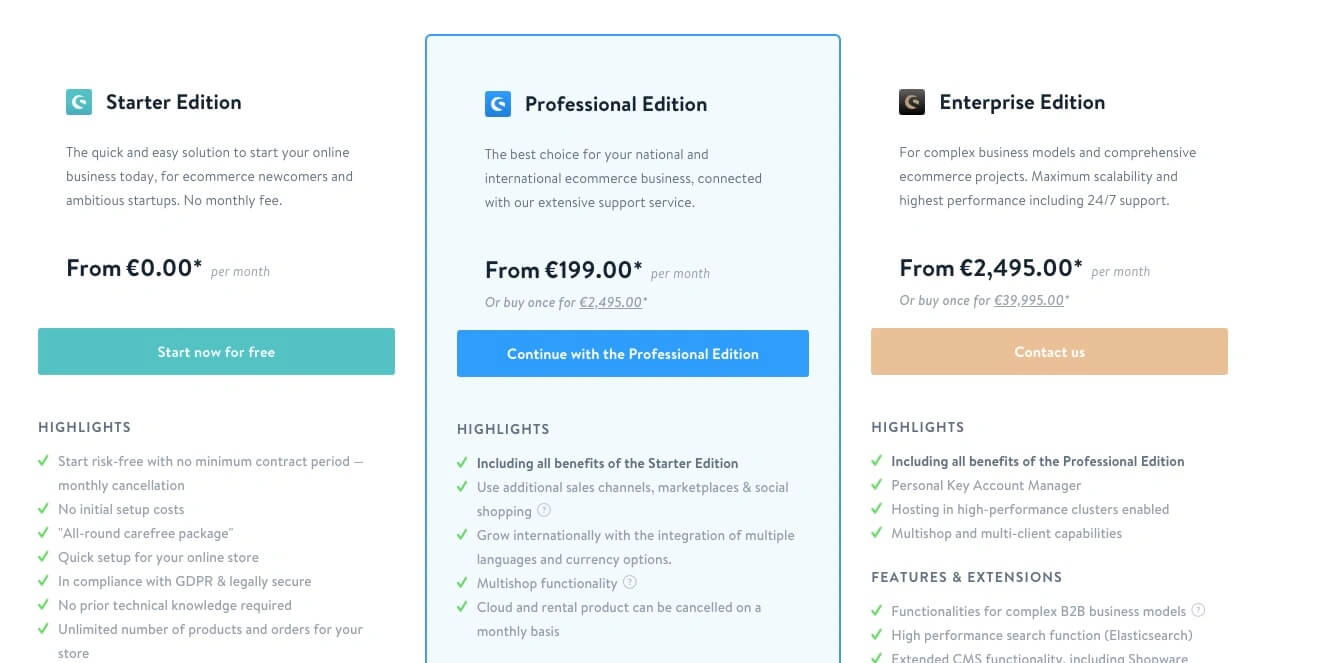 Step-by-Step Guide to Installing Shopware Cloud for Your Online Shop
The Cloud version offers many advantages, including regular updates and a convenient hosting solution. So, let's get started! How do you need to proceed?
Step 1: Get Access to Shopware Cloud
First, ensure you have access to Shopware Cloud.
Go to the official website and provide your contact details to register or log in to your existing account. Check the available subscription plans and select the one that best suits your shop's requirements.
Step 2: Create a Shop
Once you have Cloud access, log in to your Shopware account.
Click on "Create New Shop" and follow the instructions. Give your shop a name and a brief description. Choose the desired domain and language settings. Confirm your inputs and create the shop.
Step 3: Customize Design and Layout
After creating your shop, it's time to customize the design.
Shopware offers a variety of appealing templates and designs to choose from. You can also make individual adjustments to give your shop a personal touch. Go to the "Theme Manager" settings and select the desired design or upload a new theme. Customize colors, fonts, and layouts to optimize your shop's appearance.
Step 4: Add Products
Now it's time to add products to your Shopware Cloud shop.
Go to the "Items" section and click on "Add New Item." Fill in all relevant information for the product, including name, description, price, images, and categories. You can also set product variations and discounts. Review all details and save the items.
Step 5: Set Up Shipping and Payment Methods
To provide your customers with a seamless shopping experience, you need to set up shipping and payment methods.
Go to "Settings" and select "Shipping Costs" and "Payment Methods." Add various shipping options, such as standard shipping, express shipping, etc., and configure the payment methods you want to accept, such as credit cards, PayPal, bank transfer, etc.
Step 6: Add Legal Information
Legal information is essential for any online shop. Go to "Settings" and select "Legal Information." Add your terms and conditions, privacy policy, imprint, and other legally relevant documents. Ensure that all information is accurate and up to date.
Step 7: Test, Review, Launch
Before making your shop accessible to the public, conduct thorough tests. Review the shopping experience, navigation, ordering process, and payment handling. Test compatibility on different devices to ensure your shop looks good and functions smoothly on desktops, tablets, and smartphones.
Everything working well? Congratulations! Your Shopware shop is now ready for launch. Go back to the Shopware dashboard and make sure to enable the "Publish Shop" option. Your shop is now accessible to the world!
Conclusion on Shopware Cloud
Whether you're a beginner, experienced shop owner, or developer, in conclusion, it can be said that Shopware Cloud is a simple and cost-effective way to create your online shop and make it look professional. For all sorts of desires, there are extensions available for purchase, allowing you to continually expand your shop.
It's clear not to overlook the fact that the self-hosted version offers a few more possibilities, but it requires a developer by necessity.
Installing Shopware Cloud is a quick and easy way to create a professionally appearing shop and showcase your products or services to the world. Remember to regularly update and maintain your shop to ensure an optimal shopping experience for your customers. Best of luck and many satisfied customers!
Feel free to also visit my shop to acquire practical plugins and extensions for your shop.
PS: You should find a good hosting provider.There's a helpful article.
Ready for your eCommerce success?
As Shopware agency, we help you create your high-turnover & individual online store and promote it with ads and SEO.