Client case: Mixerama
Pest-free animal feed

for pets and farm animals.

Futtersilo in Falkensee has been concerned for years with animal health and carries only species-appropriate and healthy pet food without preservatives in the assortment.
The problem
Already in our initial contact, Mixerama used Shopware 6 as the shop solution, but unfortunately, the shop did not have a particularly high-quality appearance. Customers often accidentally accessed the B2B shop, but could not make any purchases there due to hidden prices. Presumably, many customers were lost due to this shortcoming.
On the Mixerama homepage, the above-the-fold area, which is the area for headlines, videos, and images, was always the same. A clear structure is important for a Shopware 6 shop like Mixerama through various subcategories for the individual animal or feed types. Due to this mistake, it was difficult for visitors to recognize the topic of the respective page. In addition, the performance of the Shopware 6 shop was very poor, another reason for potential customers to leave the shop. The reason for this was uncompressed images in non-modern formats. An example of a modern image format is Webp.
Another visual flaw of the previous Shopware 6 shop was that unique selling propositions and customer benefits were not well communicated, and well-made social media videos were only available on the YouTube channel. There was a single page for newsletter sign-ups with far too many fields.
There were also some problems hidden in the technical background. For example, the hosting from the previous provider was not a standard solution, opaque, and very expensive for further features. There were various bugs such as broken shopping carts, incorrect delivery times, and much more.
In every online shop, search is an important part of the customer experience. Unfortunately, the search was not good because an individual search database, such as ElasticSearch, was missing.
Mixerama evaluated the shop's performance based on gut feelings, and there was no professional tracking of the numbers. Neither the growth of the shop nor the availability could be tracked well.
Before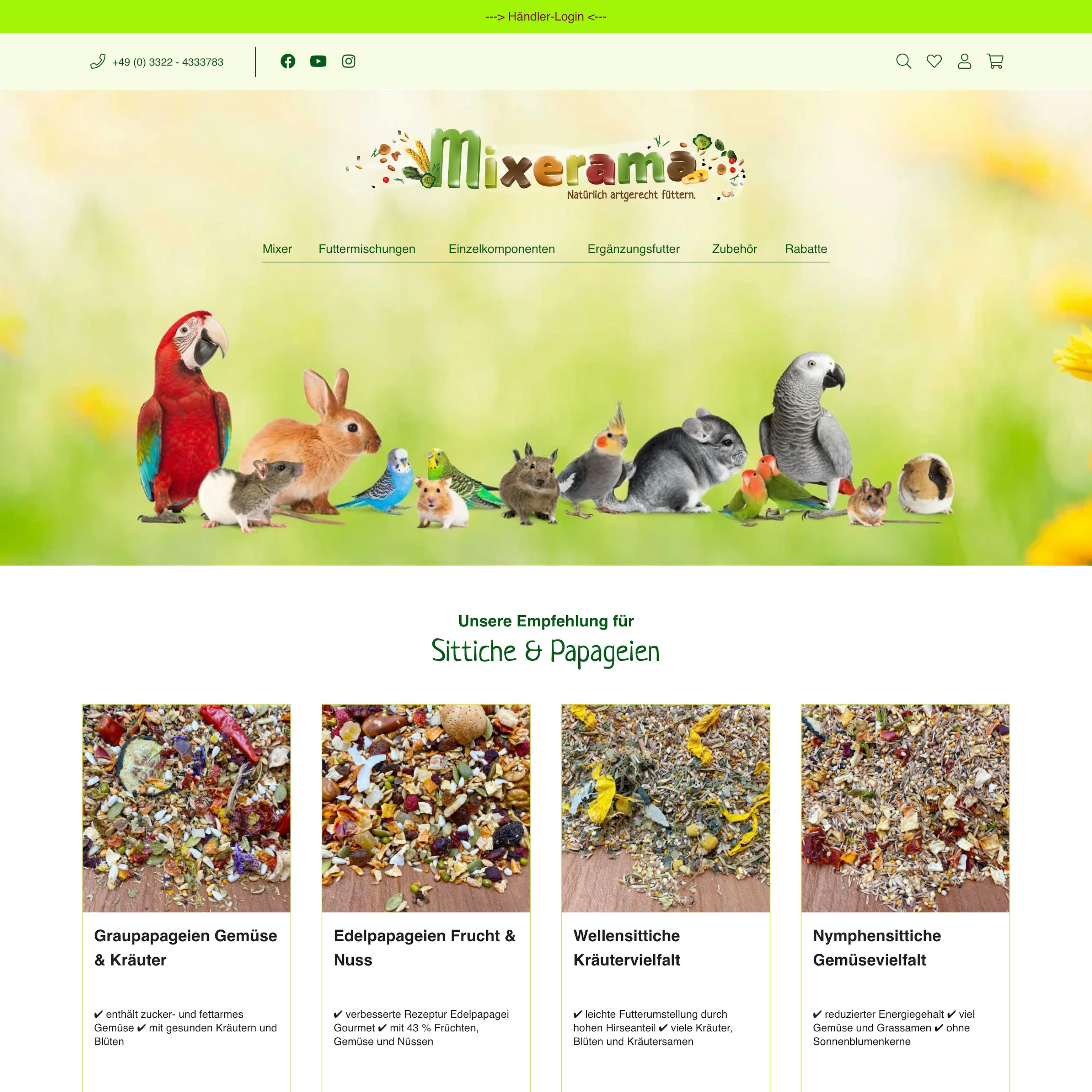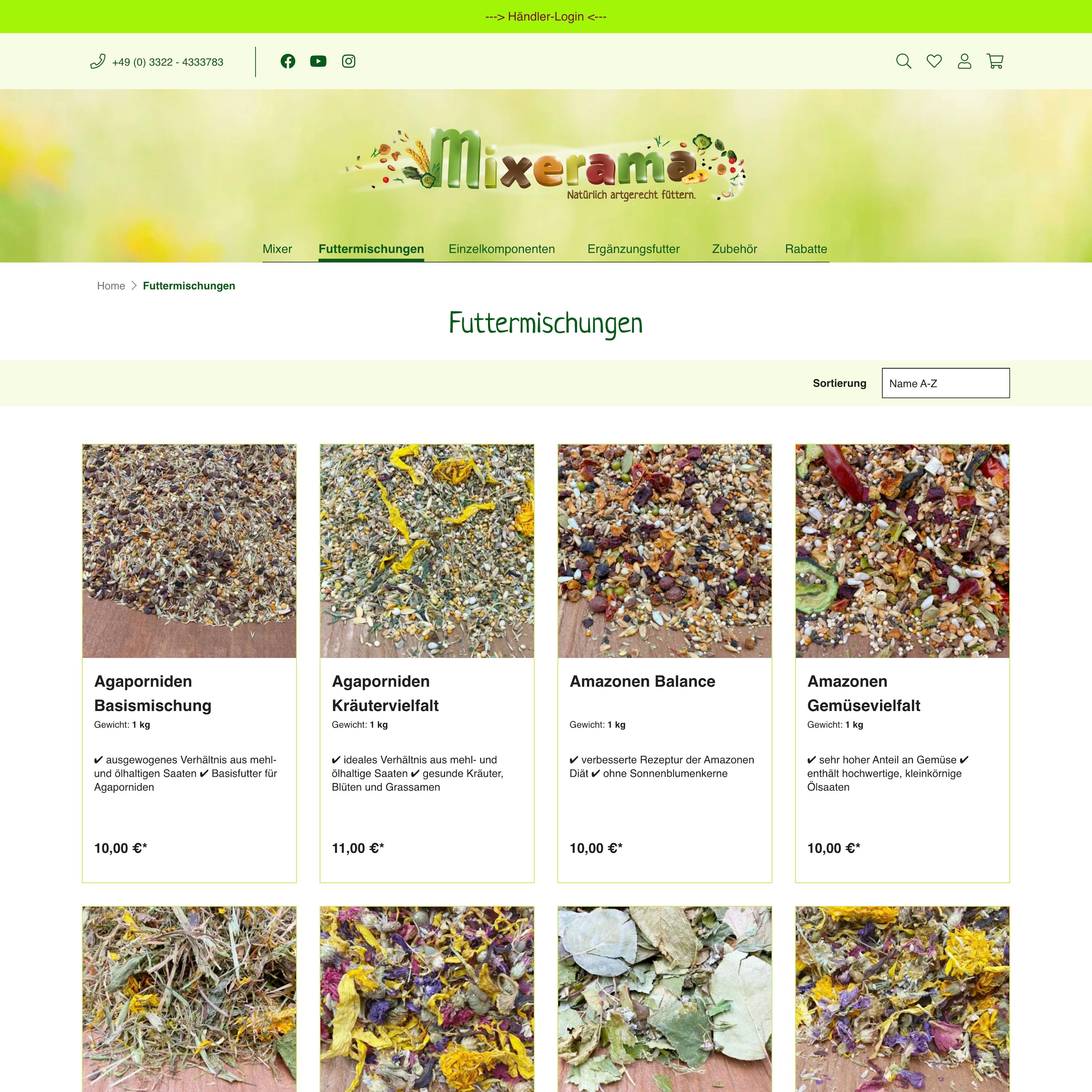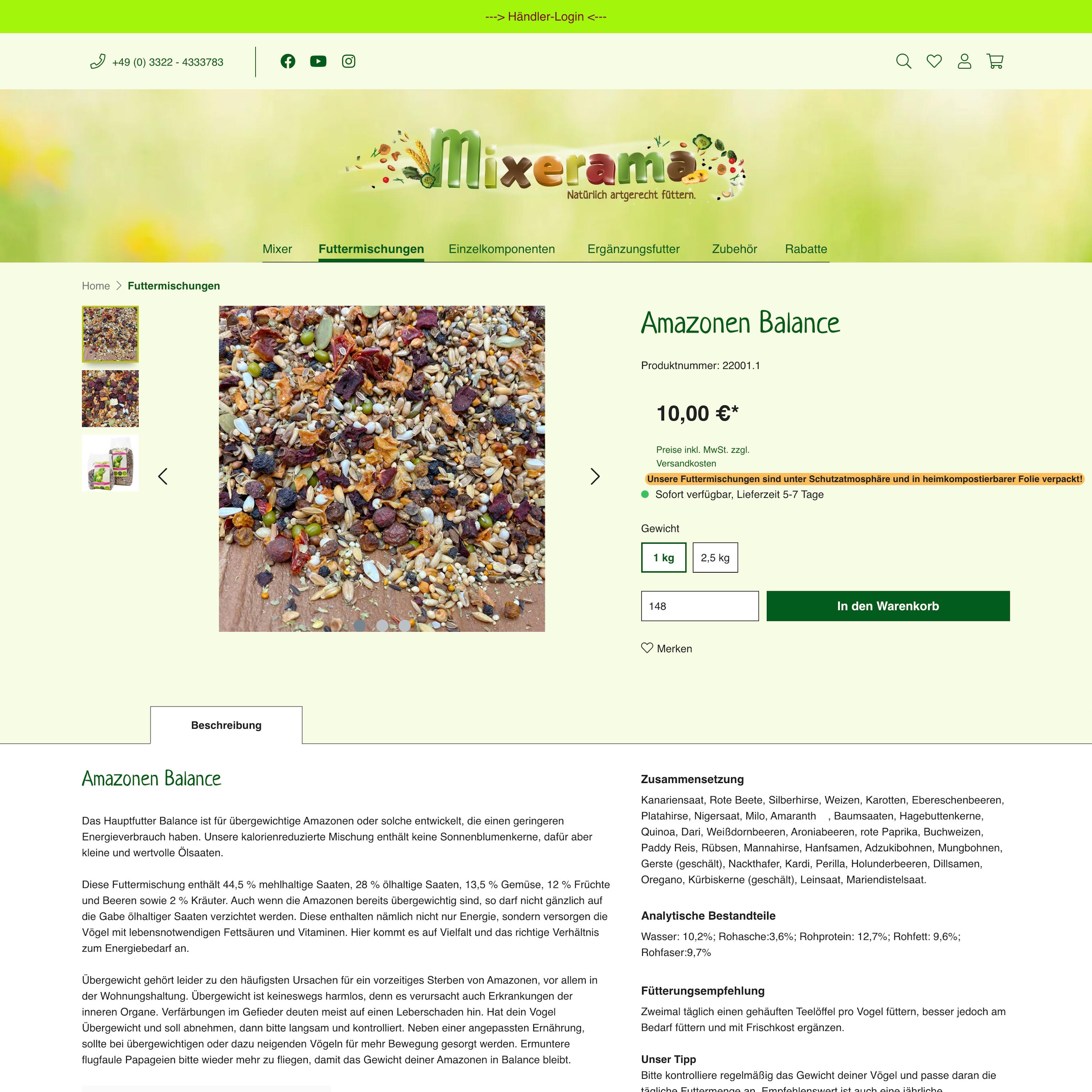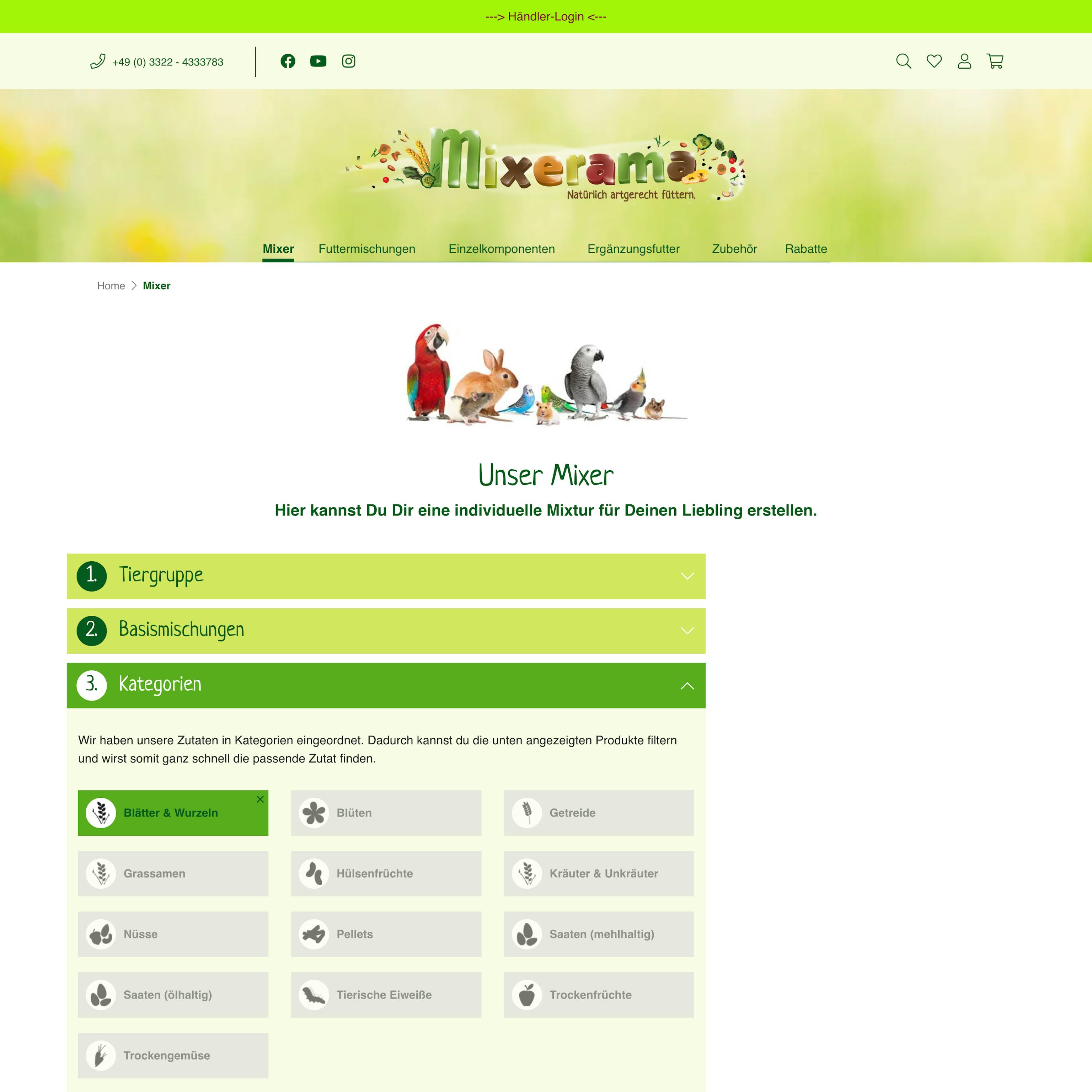 The solution
At the beginning, we set up a Slack channel for communication with Mixerama to avoid complicated email exchanges.
Next, we developed a new design for Mixerama, which was individually adapted for the start, category, and detail pages. Now each category has its own unique video for that special "wow" effect. Mixerama's unique selling points and customer benefits are now better communicated, and the really good social media videos have been integrated into some of the pages. These measures are intended to captivate customers and encourage them to browse further.
As the existing Shopware 6 theme gave a cheap and unattractive impression and did not function properly, we decided to develop a new Shopware 6 theme.
We replaced the much too expensive hosting solution with Timme-Hosting, which also improved the performance of the Shopware 6 shop. Speaking of performance, by using CDN to load images and videos, the performance of the online shop was further optimized (delayed loading of non-visible data).
To improve the customer experience, we then integrated ElasticSearch into the shop, providing customers with a fault-tolerant search process with better results. We also added a Smartupp chat in the bottom right corner so that customers can request assistance from a bot at any time.
Furthermore, it is no longer possible to accidentally enter the B2B Shopware shop, as registration and subsequent approval are now required.
Newsletter sign-up is no longer done through a separate page with many fields, but only through a single section with a video and a few necessary fields.
Even the best shop is useless if it is not regularly optimized. To do this, reliable tracking is essential. We installed the Google Tag Manager in the backend of the Shopware 6 shop. Now, many tracking data such as events are transmitted in complete data sets. The Google Tag Manager allows for various data to be evaluated and visualized through statistics and KPIs in Google Data Studio & Google Analytics, including average cart value, customer lifetime value, funnels, and much more.
In addition, Facebook and Google Ads have been linked to the Shopware 6 shop in Mixerama's backend, making it clear how much revenue the ads have generated.
Finally, we have integrated Google Shopping into the Shopware 6 shop at Mixerama, and Amazon will soon follow.
After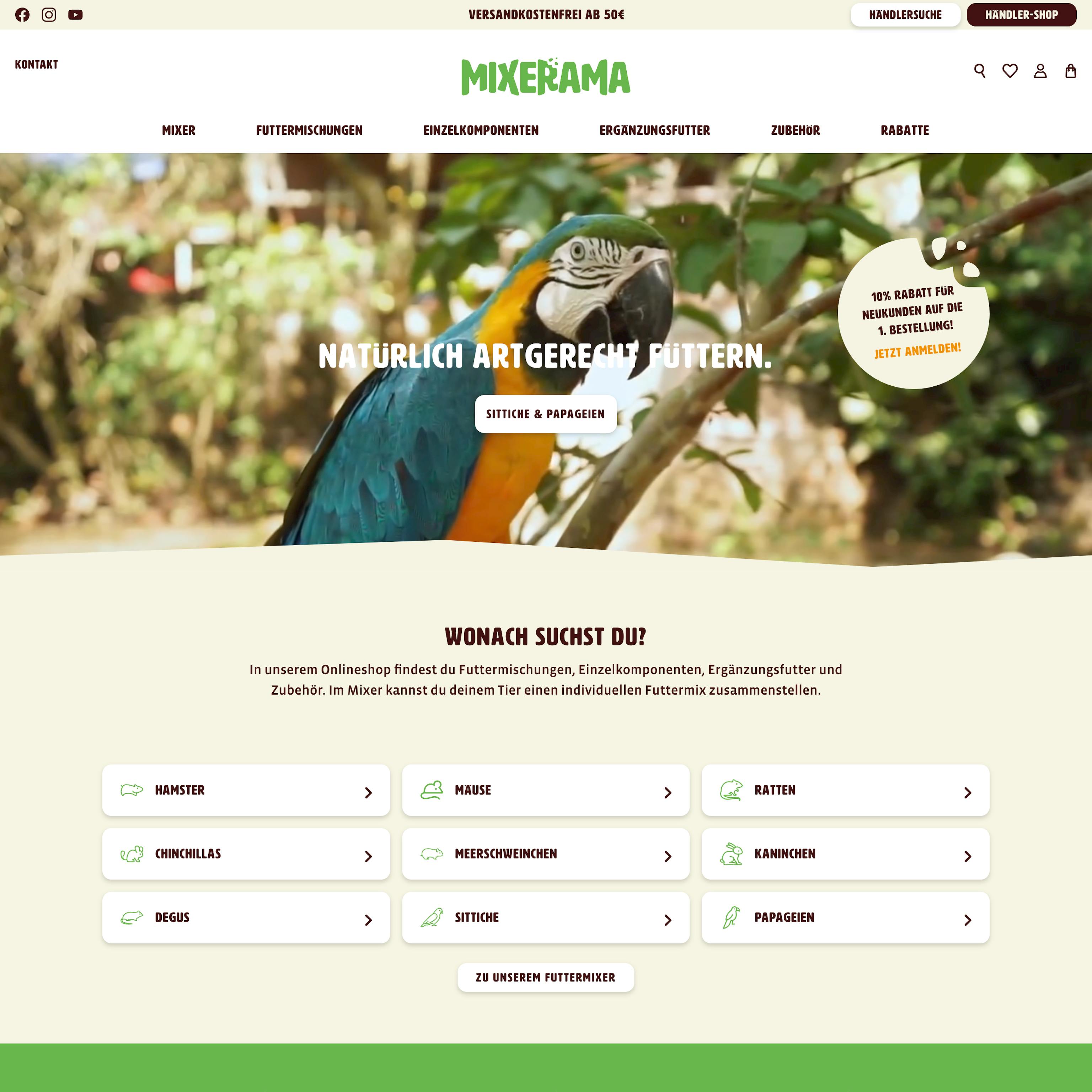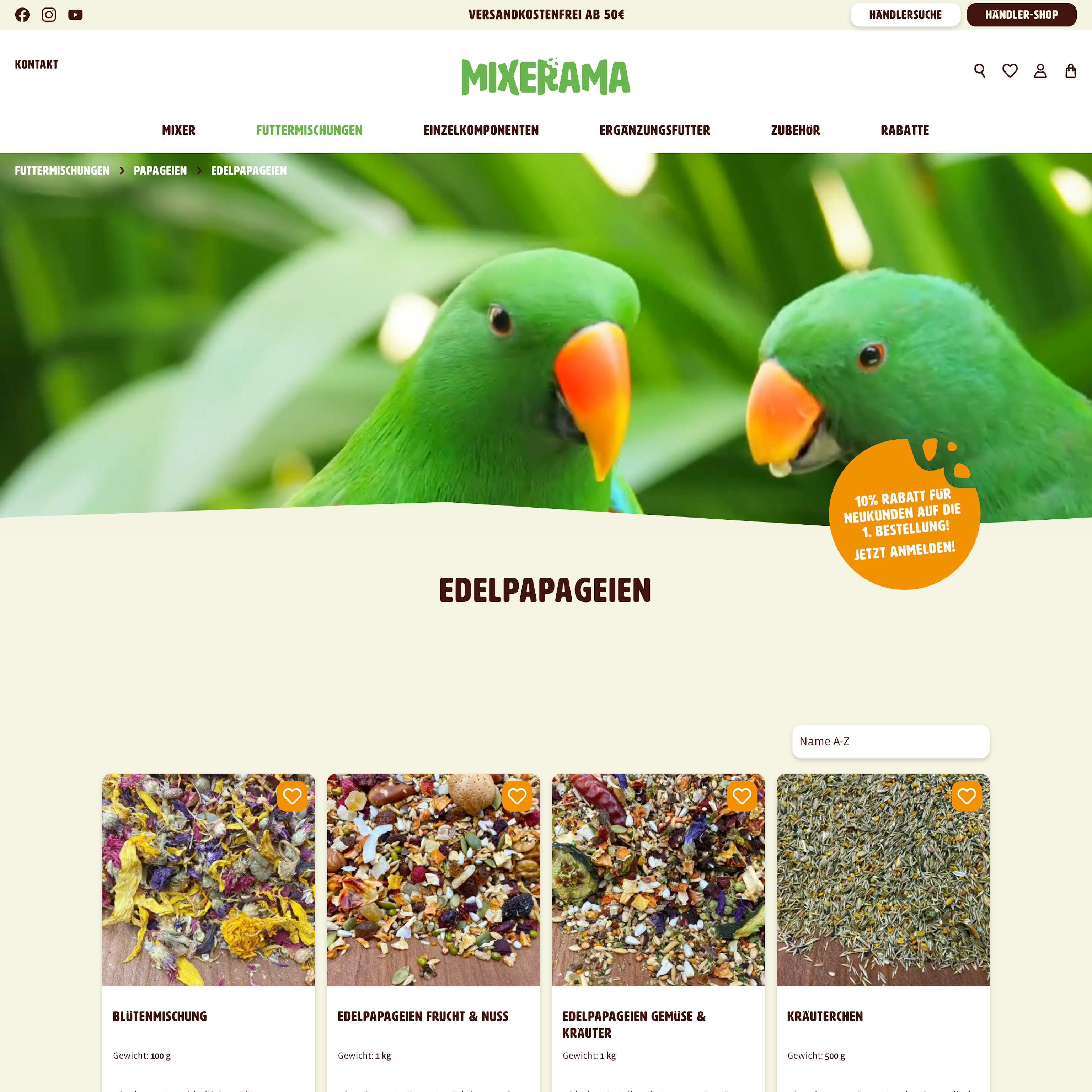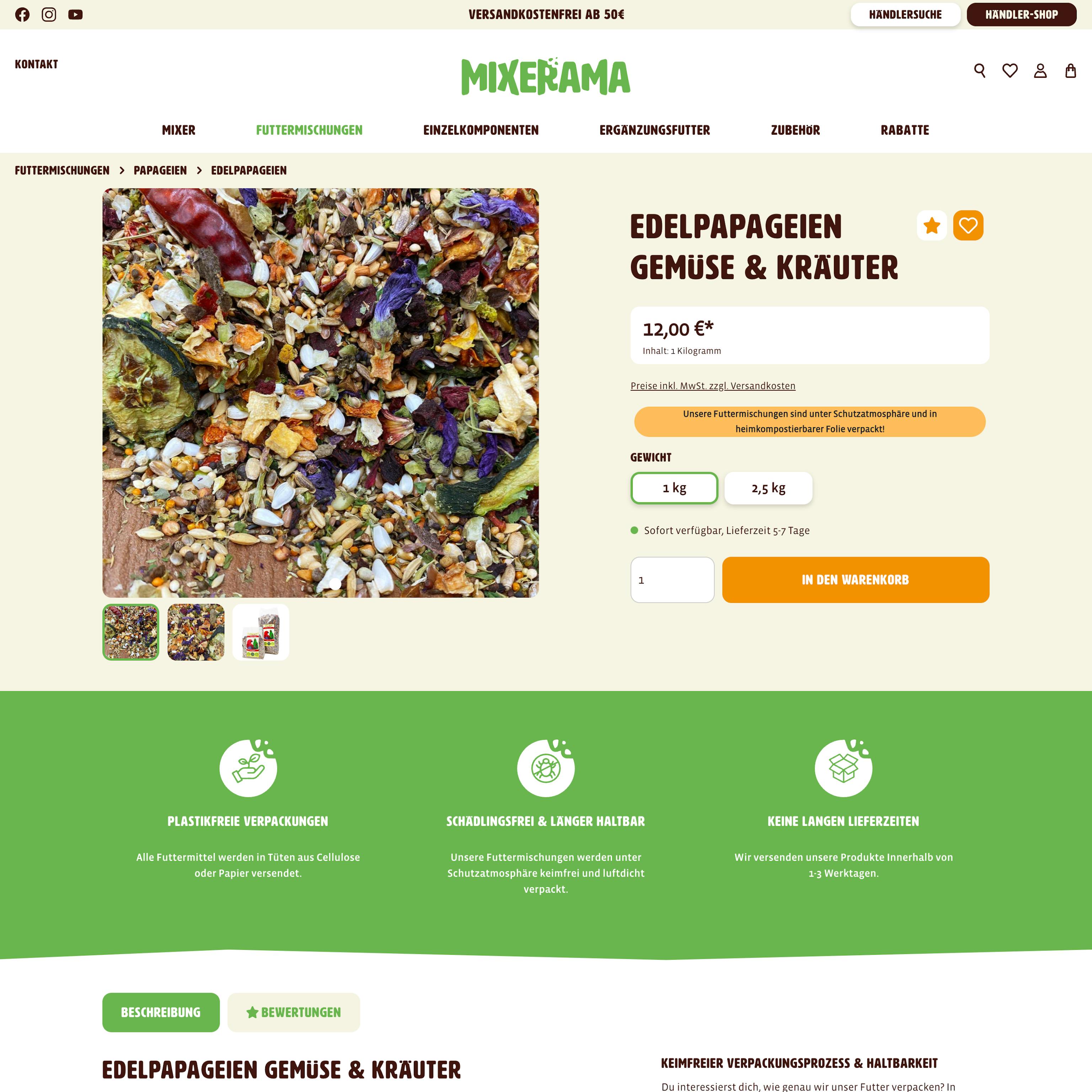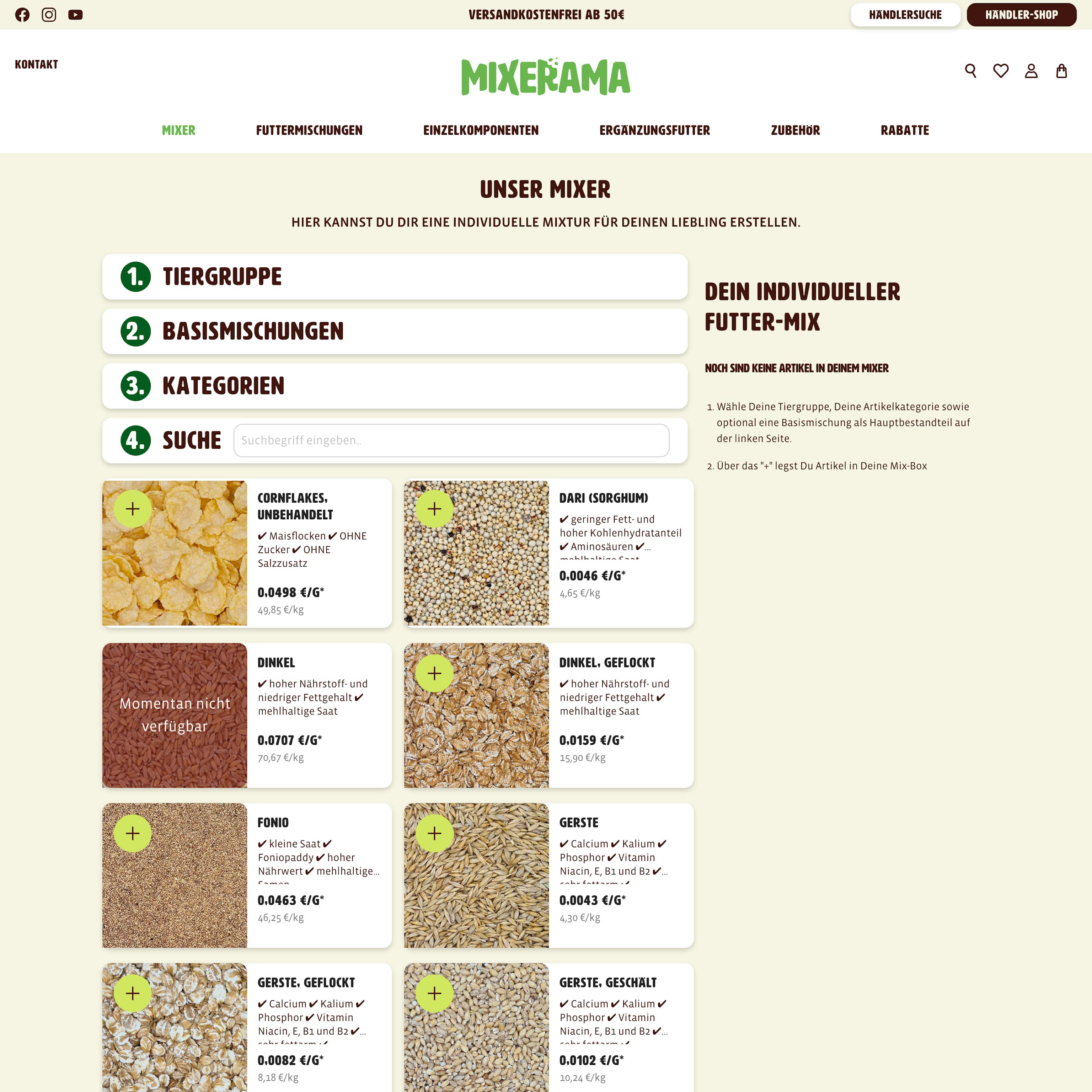 The result
Since the beginning of our collaboration, Mixerama and us have already seen some results from the measures taken. For example, communication via Slack worked smoothly, quickly, and directly from day one.
Since the completion of the Shopware 6 shop, there have been several surveys among customers, and the shop is now perceived as more valuable and suitable for Mixerama's pricing.
An additional result of the collaboration is a relief for the support department of Mixerama, as the improved search and user experience have resulted in fewer support cases. Customers now find their way faster and more easily to their goal. If problems do arise, customers receive quick help through Smartupp. This leads to more satisfied customers and more revenue.
The implementation of the connection to Google and Facebook Ads leads to measurable results. The first ads started directly and also generated revenue. And the connection to Google Shopping already proved its worth with initial results.
Finally, it can be said that through the Google Tag Manager connection, the success of the Shopware 6 shop is now measurable and therefore also scalable in the future.
Do you want to achieve your goals too?
Then arrange an initial meeting with us so we can find out together if we can help you with your project!