Shopware AI Copilot - Increasing Revenue with Automation!
Shopware AI is the newest tool in the Shopware universe! How does it help you make more sales? Find it out in this blog post!
Do you sometimes feel like you're losing track of all the latest developments? 😫 The Shopware AI Copilot can help you achieve more revenue with less effort! With this tool, you can make your customers happy and even sell more! And all of this without constantly being tied to the analysis of important KPIs. How does it work? Keep reading and be surprised!
The Shopware AI Copilot promises to elevate the operation of your online shop to a new level by actively assisting you with various tasks. In this article, we will explain what the Shopware AI Copilot is and how it can help you enhance your success in e-commerce.
How to Make Your Customers Happy with the Shopware AI Copilot
Do you want to make your customers happy while also increasing your sales? Then you absolutely should use the Shopware AI Copilot! With this tool, you can provide optimal support to your customers and offer them an unforgettable shopping experience.
The Copilot analyzes your customers' behavior and provides you with valuable tips on how to meet their needs. For example, you can create personalized offers or provide targeted recommendations. But how does the Shopware AI Copilot actually work? It's quite simple: The tool utilizes artificial intelligence to analyze your customers' behavior. It identifies patterns and trends, offering you actionable recommendations. This allows you to react quickly and satisfy your customers.
So, why should you use the Shopware AI Copilot? It's straightforward: because it helps you sell more! By addressing your customers' needs, you increase their satisfaction, thereby enhancing the likelihood of them making purchases from you. Furthermore, you ensure that your customers feel well taken care of by you - which is crucial in online commerce. For your customers, the Shopware AI Copilot is also a great aid. They receive personalized offers and recommendations tailored precisely to their needs. This not only boosts their satisfaction but also fosters loyalty towards your company.
However, the Shopware AI Copilot doesn't just assist you in making your customers happy. It also helps you optimize your business. By following the tool's recommendations, you can enhance your processes and work more efficiently.
How the Shopware AI Copilot Supports Yours Business
Okay, okay, we all know that AI (Artificial Intelligence) can sometimes be a little spooky. But don't worry, the Shopware AI Copilot is not a Terminator and won't take your job away. Quite the opposite!
The Shopware AI Copilot is your partner in crime to make your customers happy and sell more. But how does it all actually work? It's quite simple: The Shopware AI Copilot analyzes your customers' behavior on your website and then provides you with personalized recommendations on how to optimize your offerings. This means you can offer exactly what your customers are looking for, without having to spend hours analyzing data yourself. Sounds great, doesn't it?
The Copilot automatically evaluates your data, including purchase behavior, search queries, and cart abandonments. This way, you can learn which products are particularly popular or which offers your customers are missing.
With this information, you can strategically optimize your offerings and tailor them to your customers' needs. This not only leads to satisfied customers but also increases revenue for you. So, the Shopware AI Copilot is a true game-changer for your business!
What the Shopware AI Copilot Means for Your Customers
What the Shopware AI Copilot Means for Your Customers
What the Shopware AI Copilot Means for Your Customers? Well, that's a great question. Because when you use the Copilot, your shop is simply going to get much better. That means your customers will get a tailored shopping experience in your shop. The Shopware AI Copilot ensures that your shop is always up-to-date and the products you offer are always relevant. This also means that your customers spend less time searching for what they want - because everything is practically served to them on a silver platter.
In short: The Shopware AI Copilot ensures that your customers are happier and buy more. And who wouldn't want that? WIN-WIN!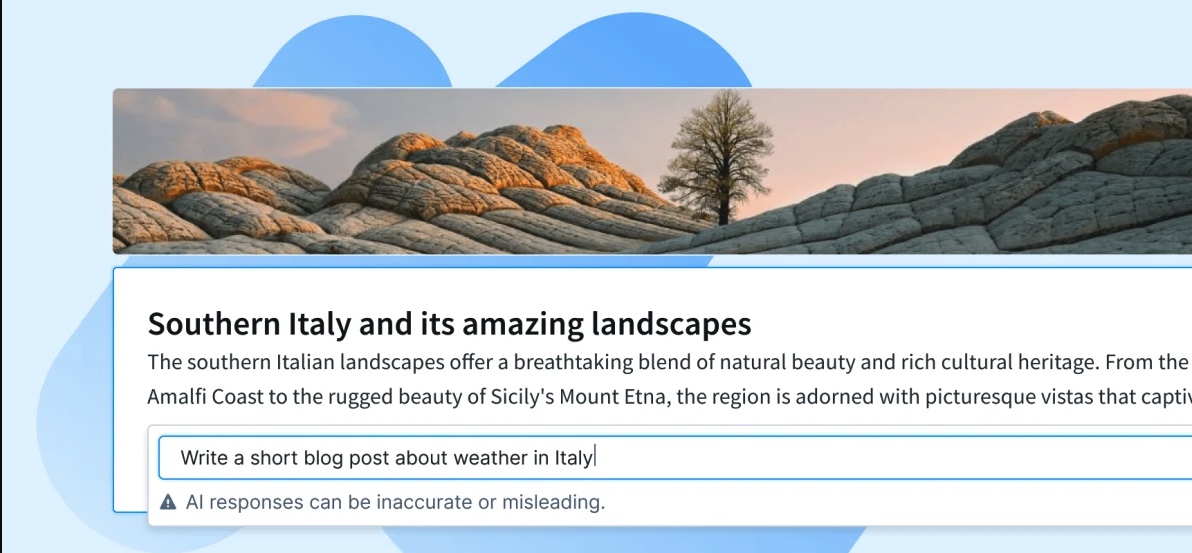 (Source: https://www.shopware.com/de/news/shopware-ai-copilot/)
Pssssht: There have been some recent updates to the Copilot.! 🤫
AI-Generated Content
In the official blog post by Shopware (which you can find here), it was explained that the feature seamlessly integrates into the Shopware Experience Worlds. While editing or creating a page, the AI Copilot can be activated by pressing the spacebar.
Subsequently, simple requests such as "Write a blog article about the weather in Italy" can be entered. The artificial intelligence then begins to create the text. The generated text can be selected to perform various actions like translations or grammar corrections.
Writing content often requires a lot of time and effort. The AI functionality of the Copilot helps merchants overcome writer's block by providing them with an initial draft of text. Furthermore, this feature can enhance the overall quality of the text, thus minimizing the need for many rounds of revisions. Convenient, isn't it?
There's an AI Export Assistant!
A new tool in the Shopware world, the AI Export Assistant, has the potential to revolutionize the way data exports are conducted from the shop system.
The AI Export Assistant allows merchants to export specific data from their shop system into a CSV file with minimal effort. Tim explained that the activation of the Export Assistant takes place in the administration under Export > Settings. After activation, a user interface opens up, enabling users to input queries in natural language. An example of such a query could be: "Show me all orders from the last week." With the help of artificial intelligence, this query is converted into a database query, and the results are displayed in a preview window. Subsequently, the results can be downloaded as a CSV file.
It's important to note that the shop data is never passed on to the AI services. The AI is only used to create the database queries. It has been emphasized that the feature is continuously expanding, with user feedback playing a vital role in its development.
The greatest advantage of this feature lies in allowing merchants to specifically filter the required data, thus working more efficiently. In traditional exports, it was only possible to export a complete data profile. With the AI Export Assistant, however, merchants can extract exactly the data they need for their specific requirements. The collected data from the shop system is invaluable, serving to optimize business processes, analyze data, and make data-driven decisions. CSV files, as a standardized format, also enable versatile use of the data in various applications and tools.
The introduction of the AI Export Assistant marks a remarkable step towards more efficient data management for Shopware merchants. The future promises continuous expansion and improvement of this exciting feature.
Customer Classification with the Help of AI
Innovation and progress are ever-present in e-commerce, and an exciting new feature called AI Copilot | Customer Classification opens up another dimension of data processing and utilization for merchants.
The foundation of the feature: AI Copilot Customer Classification utilizes customers' order history to generate labels or tags that can be used for marketing mailings and similar purposes. Stefan explained that merchants can define a selection of customers whose data should be used for customer clustering. A specialized AI service analyzes the order data of these selected customers and looks for common characteristics or behaviors. Based on this, meaningful segments are created and named, such as the label "Frequent Buyers" with associated rules like "Customers with at least 10 orders in the last three months." These clusters and rules are then applied to customers to classify them and assign relevant tags. It's possible that some customers might not be assigned to a specific class.
The value for merchants is diverse, as emphasized by Stefan. A clear example is the time saved in creating marketing mailings. Clustering order data and identifying relevant customers for targeted advertising campaigns is significantly accelerated with the support of AI services. Moreover, the generated tags can be used in various areas of Shopware. For instance, you could send a newsletter with current offers to customers tagged as "Bargain Hunters."
Overall, the AI Copilot | Customer Classification feature opens new doors of efficiency and personalization in customer management for merchants. It allows intelligent use of order data to identify relevant customer groups and facilitate marketing activities. The assistance of AI services in creating these clusters saves time and promotes improved customer engagement.
Relevant Keywords for Images
The realm of e-commerce is receiving a powerful tool with the new AI Copilot | Image Keyword Assistant, which elevates the categorization and discoverability of uploaded images to a new level.
The core functionality of this feature is: The AI Copilot analyzes uploaded images and assigns them relevant keywords. When a user opts for this option, uploaded images are examined through AI analysis. The artificial intelligence identifies the content of the images and assigns suitable keywords. These keywords are stored as metadata within the image and can be easily accessed through the administration search.
The feature provides a solution to common challenges faced by merchants. One example is the creation of pages where appropriate images are needed. Particularly in large image databases, inputting keywords in the administration simplifies the rapid retrieval of suitable images from the media library. Additionally, the assigned keywords can be used as alt tags, contributing not only to better search engine visibility but also improving the content's accessibility for people with disabilities.
AI-Powered Summaries of Product Reviews
A new and impressive feature, the AI Copilot | Product Review Summaries, offers merchants an intelligent way to process the wealth of product reviews and provide customers with valuable feedback for their purchase decisions.
This feature allows merchants to create AI-generated summaries of all product reviews and publish them on the product detail page. Customers can thus get an overview of feedback without having to go through each individual product review.
The functionality of this AI feature was explained in detail. In the administration, merchants will find the familiar section for product reviews. Through the new feature, they can have an AI-generated summary of the reviews created. Once the artificial intelligence generates a summary of the reviews, the merchant has the opportunity to review and adjust it. The summary can then be saved and displayed on the product detail page in the storefront.
The significant value of this feature was emphasized by Christian: With this function, merchants can provide their customers with a concise summary of product reviews. This helps customers make informed purchase decisions. The consolidated presentation of all the experiences from previous reviews allows both customers and merchants to develop a clearer and quicker understanding of how a product has been perceived by customers so far.
Personalized Checkout Message
An impressive new tool, the AI Copilot | Personalized Checkout Message, offers merchants an automated method to enhance customer loyalty through personalized messages after purchase. The functionality and benefits of this feature were illuminated.
The core of this feature lies in automatically generating an AI-generated personalized message after a purchase is made. This message is generated based on the settings the merchant has established in the admin area. These settings pertain to aspects such as the length and style of the language. Importantly, the message is tailored to the products the customer has just acquired. The personalized message is displayed in the storefront once the checkout process is completed. Merchants have the opportunity to thoroughly test the messages before activation and adjust the settings.
The value for merchants is evident: Addressing the customer individually strengthens the connection to the purchased products and brands. This contributes to increased customer loyalty, all without additional manual effort for the merchant.
Overall, the AI Copilot | Personalized Checkout Message feature promises increased customer loyalty and improved customer engagement. It enables merchants to intensify their relationship with customers in a personalized and efficient manner.
Product Descriptions Through AI
The introduction of the AI Copilot | Product Attributes represents a significant step in the field of product data management. This feature offers merchants an efficient way to suggest product attributes based on product descriptions, thereby streamlining their daily work.
The functionality of the feature was succinctly summarized by Matthias. Based on the product description, the function automatically enables the creation of a list of attributes for the respective product. It also takes into account which attributes are already stored. This provides the merchant with a clear overview of newly added attributes in comparison to those that already exist.
The value of this feature for merchants is evident. Entering product attributes can often be time-consuming and monotonous, yet it is of great importance to provide customers in the storefront with additional filtering options or to create variants. With the AI Copilot | Product Attributes, merchants receive automatic suggestions that not only save valuable time but also enhance the accuracy and consistency of product data.
Overall, the feature promises to simplify the daily work of merchants while simultaneously improving the quality of product data. The integration of AI into the process of product attribute management reflects the ongoing efforts to make e-commerce even more efficient and user-friendly for merchants.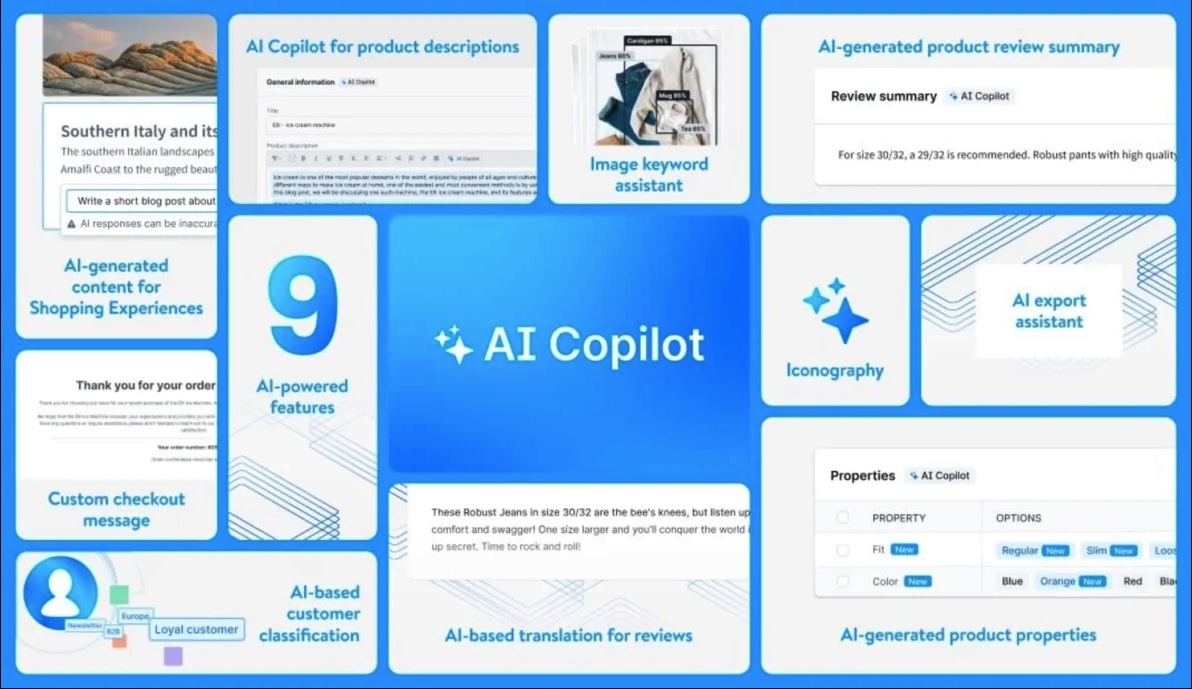 Automatic descriptions (Source: https://www.shopware.com/de/news/shopware-ai-copilot/)
Automatic Translation of Reviews
With the introduction of the AI Copilot | Review Translation, merchants are provided with a new way to quickly and easily translate product reviews using AI, allowing international customers to have a better understanding of the reviews.
The functionality of this feature was succinctly described by Marcel. After activating the function in the settings, customers have the option to automatically translate individual reviews in the storefront using artificial intelligence. These translations provide customers with a more detailed picture of the product.
The significant value of this feature lies in the enhanced customer perspective on the product. By understanding international reviews, customers can make more informed purchasing decisions. This has long-term positive effects on product reviews as expectations are more realistic from the start. A reduction in return rates is another positive effect of this function.
Overall, the AI Copilot | Review Translation feature promises extended global customer interaction and a better shopping experience for customers, regardless of their language or origin. The integration of AI to enhance information conveyance reflects ongoing efforts to further increase customer satisfaction in e-commerce.
Conclusion: Stay on Course and Sell More with Shopware AI Copilot
So, what have we learned? The Shopware AI Copilot is truly a remarkable tool for online retailers. It not only helps you keep your customers happy but also sells more for you.
With its intelligent features and algorithms, it can assist you in increasing your sales figures and strengthening customer loyalty. And the best part? The Shopware AI Copilot is easy to use and seamlessly integrates into your existing shop system.
We hope this article has provided you with an informative overview of the Shopware AI Copilot. So what are you waiting for? Get started and get the Shopware AI Copilot – your online shop will thank you!
Ready for your eCommerce success?
As Shopware agency, we help you create your high-turnover & individual online store and promote it with ads and SEO.